Featured Theme: Funerary Inscriptions
Inscriptions were an important way to commemorate dead relatives. They can provide touching glimpses of people's lives. They also often served a practical purpose by setting out the dimensions and legal status of the grave.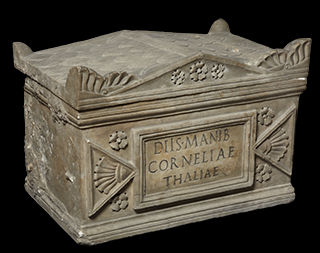 The project has added context to the Ashmolean's Roman funerary material by recreating a Roman columbarium in the Reading and Writing gallery and by staging a rowdy reconstruction of a Roman funeral complete with wax death masks.
Rider reliefs – These two gravestones look very similar but tell very different stories.
Abascantius' ash chest – The ornate final resting place of a well-travelled Roman
Tombstone for a familia – this tomb served for a whole Roman family, including freedmen and unrelated friends
Intelligence officer – This Speculator collected intelligence for the Roman Army
A child with an epic tombstone – Lucius Marcius Pacatus had scenes from the life of Hercules on his grave altar.
A child slave who was sadly missed – this little inscription offers a glimpse of the complex relationships between masters and the people they owned.
A bilingual altar – this altar commemorates a trader from Italy in both of the languages he traded in.
Grave of a centurion from London – The grave stone of a centurion shows some of the difficulties of reconstructing what people looked like.
Plaque to Persania Grapte – This inscription was lost for centuries and rediscovered by the project.